We are a dynamic group of women striving for excellence in our chosen art form, and having fun too!  Vocal Matrix Chorus specializes in 4- part harmony a cappella singing and is an award-winning performing group.
Whether you have been dreaming of singing sweet harmonies with a friendly, welcoming group or are searching for a dynamic chorus or quartet to perform at your next event, we are the group for you!
Vocal Matrix Chorus embraces women of all ages and backgrounds whose common purpose is to share their joy of singing and performing.   Since 2005, the chorus has provided high quality a cappella and barbershop harmony performances to local civic, educational, and corporate audiences in Upstate South Carolina.
We regularly perform at community events, seasonal shows and competitions, as well as provide the highlight entertainment for nursing homes and assisted living centers' special gatherings. The next time you have a large or small event, consider hiring Vocal Matrix Chorus for a unique musical experience.
Education
Vocal and performance instruction is a regular part of weekly chorus rehearsals and an integral part of our chorus experience. We are very fortunate have master coaches visit our chorus several times a year. These world class masters of barbershop harmony share their amazing experience in vocal and visual techniques, which will propell us further on our journey to musical excellence.
Through its youth outreach, the chorus offers performance opportunities to high school students. The past few years the annual show invited students to a Sing For Scholarship Program.  In 2022 VMx joined local High School Choruses and vocal groups in a day of music education and an evening of "Barbershop Through the Ages" with hundreds of participants. Stay tuned for exciting new programs for youth in the near future!
Competition
Each spring, Vocal Matrix participates in the Sweet Adelines International Region 14 chorus competitions.  Competitions bring together quartets and choruses in their respective regions throughout the world to perform, and get some constructive feedback from a professional panel of judges. We were Regional (14) Champions in 2014 and competed in the Sweet Adelines International Competition in Las Vegas in 2015.  In 2017, we received a Wild Card invitation and competed in the 2018 International Competition in St. Louis, MO. With the recent COVID-19 situation in 2020 and 2021, most competitions were postponed. In February of 2022 however, the regional competitions went virtual with each competing chorus submitting an unedited video of its ballad and up-tune. Vocal Matrix chorus won 1st place for mid-size choruses and placed 3rd overall for Region 14!  
VMx also performed in the more recent  Region 14 chorus competition in April of 2023. This was the chorus' first competition under the direction of Dr. Kimberly Graham. In the closing ceremonies Dr. Graham was presented with the 2023 Region 14 Novice Director Award!
This past October 31st, 2023, Vocal Matrix competed in the Harmony Classic AA- mid-size chorus- Division during the 75th Sweet Adelines International Competition in Louisville, Kentucky.  The chorus with its performance at the "Happy Harmony Pet Resort" placed 4th!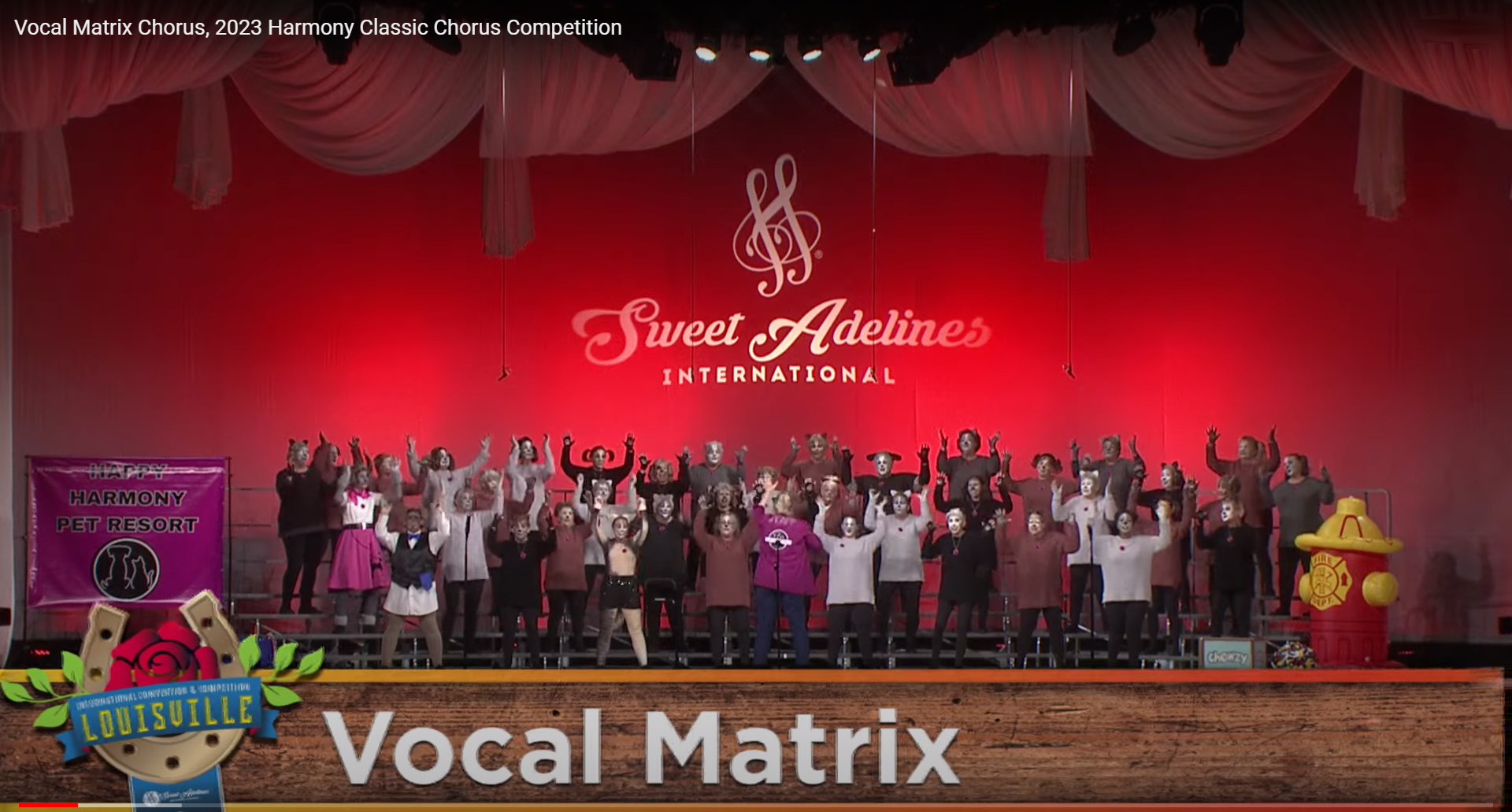 Guiding Principles of Diversity, Inclusion and Belonging
Vocal Matrix Chorus is a chapter of Sweet Adelines International (SAI), a non-profit organization of approximately 17,000 members in choruses and quartets, worldwide. Vocal Matrix adheres to this global organization's Guiding Principles  of diversity, inclusion and its culture of Belonging: "We create harmony where every voice matters. We foster a culture that provides a joyful place to share our uniqueness within a global community united in song." excerpt from SAI website.